In the context of the IEEE International Conference on Engineering, Technology and Innovation (ICE/ITMS) I was able to work together with my
former Fraunhofer colleagues Carsten Schmidt and Claus Praeg present a paper. The paper deals with "Designing Digital Workplace Environments - An Agile Framework for Large-Scale End-User Participation". We have addressed the problem that the design of the digital workplace is currently one of the central design fields for companies. At the same time, however, there are very few solutions in this area that can be applied practically in companies.
 Digital workplace - the current situation
For companies, knowledge is the central and decisive resource for success. But today, more than ever, knowledge must flow to meet the demands of shorter innovation cycles and an increasingly dynamic work environment. The dissemination and generation of knowledge requires a digital work environment that facilitates communication and collaboration between employees and their environment.
The digital workstation functions both as a technical enabler and as an attractive feature. It thus makes an important contribution to corporate performance and to the recruitment, retention and motivation of employees. Such an infrastructure connects users and enables them to work anywhere.
The approach: agility and involvement of employees on a large scale
Due to its complexity and ambiguity, the continuous roll-out and further development of such a project can only take place in close cooperation with the users. Therefore, we have proposed in this paper an agile framework for a comprehensive involvement of end-users in the development of digital work environments.
Two points are essential in this approach: firstly, that the approach is based on an agile design approach and thus ensures that changes in requirements can be responded to quickly. These requirement changes must be adequately reflected in the project and its progress. On the other hand, the approach should ensure that as large a part as possible of the employees of a company participate actively and continuously in the design of the digital workplace. This requires new approaches. With "usual" procedures, such as interviews or workshops, only a limited number of employees can usually be involved.
A rough idea and overview of the approach presented in the paper is given in an illustration contained in our publication: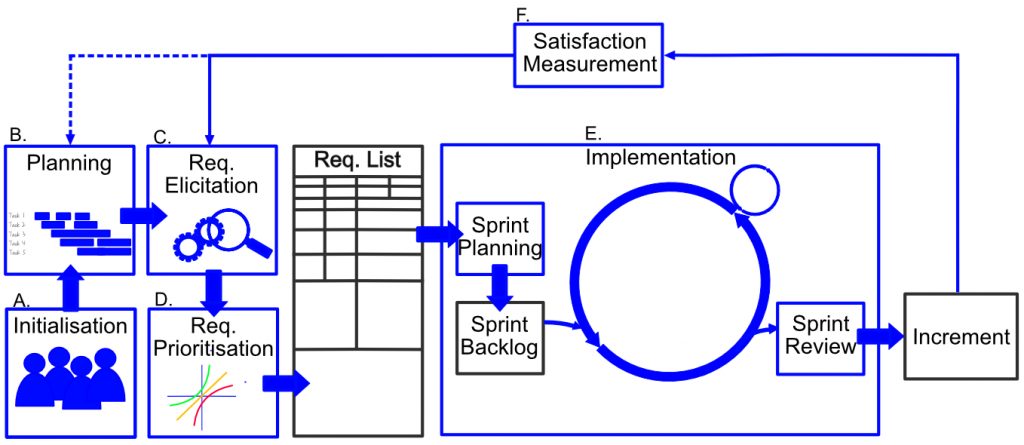 By means of a multi-stage procedure, employees are first asked about their requirements via online surveysxf . These requirements are consolidated and prioritized. The requirements are then implemented and refined step by step with the help of SCRUM. It is essential that at the end there is a check between goal achievement and goal attainment. This review - in the sense of continuous IT management - can be used as a starting point for further improvements or expansion steps in the digital workplace.
Further information
A comprehensive presentation of the article can also be found at:
Designing Digital Workplace Environments An Agile Framework for Large-Scale End-User Participation
Digital Workplace - "Designing Digital Workplace Environments"